Sociology Teacher Journal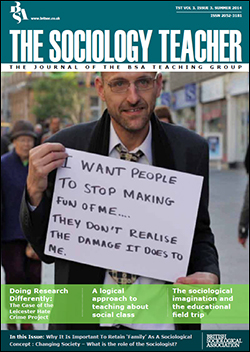 The Sociology Teacher is published 3 times a year and is produced by the BSA Teaching Group.  You must be a BSA member to access the Journal, which can be found in the Members Area.
If you're a BSA Teaching Group member with an idea for something we could include in the journal, we'd be delighted to hear from you. Any aspect of teaching and learning in the Social Sciences can be suitable, but we'd be especially interested in material relating to GCSE and/or KS3, which are currently under-represented in the publication.  Articles, classroom resources or offers to provide regular features will all be considered, as will any other ideas for suitable copy. In the first instance please contact the BSA Office, your proposal will be forwarded to the editorial board.
All enquiries concerning subscriptions (members and non-members) and back issues should be made to the BSA Office.
Call for Papers
Would you like to reach a wide academic and non-academic audience? Then publishing in the BSA teaching journal could be for you.
The BSA Teaching Group is responsible for compiling and publishing 'The Sociology Teacher'. This journal is published as an on-line downloadable file three times a year (Spring, Summer and Winter).  It is aimed at a wide readership mostly consisting of those who teach sociology at School and FE levels. The Sociology Teacher focuses a wide range of areas, themes, news topics and current affairs relating to teaching sociology. As such, it acts as both a useful academic recourse and a newsletter within which contemporary issues are highlighted and examined.  
The BSA Teaching Group would like to invite scholars to submit short articles for the journal.  Articles are around 1,500 words (but we are flexible on this depending on content of article).  We have a wide range of interest and would welcome manuscripts from various fields, however, those more closely related to the A-Level and GCSE curriculum, contemporary issues in teaching and pedagogy will tend to fit within the journals broad aims more easily.   The journal is not peer reviewed, but the publication of your work will help develop contacts in the teaching of Sociology and will widen awareness of your work.
How to Submit
Please contact BSA Office to suggest the title and content you would like to submit.  We look forward to receiving your ideas.