Events
Forthcoming Events
28 March 2018 (6-7pm)
London Medical Sociology Group Seminar
Jenny Roberts Room, London School of Hygiene & Tropical Medicine, 15-17 Tavistock Place, WC1H 9SH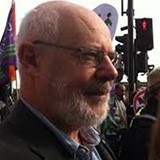 Speaker: Professor Graham Scambler (UCL, University of Surrey)

Title: Metareflection, middle-range theory and pausing to think.
My focus in this contribution is on links between sociology's macro-, meso- and micro-foci. I advocate making more constructive use of already available theoretical and substantive resources than we currently deploy. This necessarily involves a willingness to counter the present tendency to compress the past in the interests of institutional and personal advantage. I argue that we seriously underestimate the utility of extant literatures, theoretical and empirical, and illustrate this with reference to publications on health inequalities. Via a playful use of the Rubik Cube, I argue for: (a) the unrealized and 'explosive' explanatory potential of the sociology of health, illness and health care; (b) an acknowledgement of the limitations as well as the reach of the sociological project; and (c) outline a future research programme for (my) 'six sociologies' (professional, policy, critical, public, foresight and action). I shall be willing to expand on this in a nearby bar afterwards.


Venue: London School of Hygiene and Tropical Medicine, Jerry Roberts Room, 15-17 Tavistock Place, London WC1H 9SH.  Nearest train/tube stations: Russell Square, Euston and King's Cross
Contact: Oliver Bonnington
Everyone is welcome to attend LMSG meetings. The group has no formal membership. At each meeting there is a presentation by a speaker, followed by discussion that continues over drinks and supper in the local pub. Meetings will be on the last Wednesday of the month starting at 6pm.
Venue
London School of Hygiene and Tropical Medicine
15-17 Tavistock Place
London
WC1H 9SH
Nearest tube and rail stations: Russell Square, Euston and Kings Cross
Meeting time: 6.00pm - 7.00pm
Please contact the Convenor for details.
Past Events
29 June 2016 (6-7pm)
Re-describing measurement: understanding the evolving diversity of self-rated health 
Speaker: Dr Tiago Moreira, Durham University
27 April 2016 (6-7pm)
Broken Narratives: Listening with and through another's voice, another's voices    
Speaker: Professor Lisa Blackman, Goldsmiths
9 March 2016 (6-7pm)
Unsettling technoscience: The biopolitics of ageing and (trans)human imperatives
Speaker: Joanna Latimer, Cardiff University School of Social Sciences 
19 February 2016
Environment and Human Health – Social Perspectives: One-Day Workshop (BSA Climate Change, Environment & Health and London Medical Sociology Study Groups)
London School of Hygiene & Tropical Medicine, London, UK
25 January 2016
Shifting Configurations of Science, Practice and Selfhood in US Psychiatry
Speaker:  Dr Martyn Pickersgill, Edinburgh Medical School
Discussant: Dr Simon Cohn, London School of Hygiene and Tropical Medicine 
24 June 2015
Title: Failures, futures and the queerness of fat sex
Speaker: Dr Francis Ray White, Westminster
Discussant: Caroline Walters, Middlesex
27 May 2015
Title: What can neuroscience contribute to the future for mental health?' The triple crisis of neuropsychiatry
Speaker: Professor Nikolas Rose, KCL
Discussant: Professor Paul Martin, Sheffield
29 April 2015
Title: Some of us are looking at the stars: Constellations of institutional logics and actor autonomy in sustaining healthcare innovations
Speaker: Professor Graham Martin, Leicester
Discussant: Dr Dimitrios Spyridonidis, Imperial College
25 February 2015
Title: Does IVF exacerbate infertility?
Speaker: Professor Sarah Franklin, Cambridge
Discussant: Dr Carrie Friese, LSE 
28 January 2015
Debating a revisionist account of chronic illness 
Speakers: Professor David Armstrong (KCL), Professor Paul Higgs and Dr Chris Gilleard (UCL)