Distinguished Service to British Sociology Award
About the Award
This prestigious award is judged on service to British sociology and awarded to the outstanding individual who has contributed most to the discipline by leading an extraordinary life as a sociologist.
The award is open to all BSA members and the winner will be presented with the award by the BSA President at the Annual Conference in April.
2019 Winner: Professor Alan Warde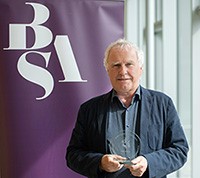 Professor Alan Warde, of the University of Manchester, was given the award by the President of the BSA, Professor Susan Halford, at its annual conference in Glasgow.
Professor Halford said Professor Warde's contribution to sociology "stretched across all areas of academic endeavour" including an "increasingly powerful analysis of consumption and environmental change."
Also, she said, "Alan has been generous with his time and his ideas to the people he works with."
Professor Warde said he was "honoured, surprised and pleased" to receive the award.
Professor Warde joined the University of Manchester in 1999 and works on the sociology of consumption, culture, food and eating, and social stratification.
He works with networks of social scientists in Norway, France, Denmark, Spain, Italy, Sweden and Finland, and has held visiting positions in Adelaide, Mannheim, Sao Paolo, Paris and New York. His previous position was Professor of Sociology at Lancaster University.
He is a past Chair of the BSA and has sat on its Board of Trustees.
Past Winners
2018 - Professor John Solomos

2017 - Professor Sara Arber

2016 - Professor David Morgan

2015 - Professor John Eldridge

2014 - Professor John Scott
2013 - Sara Delamont
2012 Inaugural Award - Professor Jennifer Platt